Biography
Oboist Alexey Balashov is an international awards winner (Moscow).
One call him "virtuoso of oboe" and "Paganini of oboe" for his high performer's skills, sincere and delicate manner of playing, beautiful sounding of the instrument and perfect mastering technical difficulties of oboe.
"Alexey Balashov is a bright, erudite musician, possessing the style of his own. He is a real propagandist of oboe music…"
"The main hero of the evening Alexey Balashov is an oboist by avocation. He skillfully and generously represents the instrument at prestigious Russian concert venues…"
"Quite a rare performer leaves such aura after his playing. How naturally, effortlessly the most virtuoso pieces are performed by you and how beautiful, gentle and fresh the voice of your instrument is! Many thanks for making our world so splendid!.."
"The listeners, who visited the celebration of Bach anniversary in Organ hall yesterday, highly appreciated virtuosity and stage magnetism of Alexey Balashov. Concert "Bach-Gala" was an amazing sell-out and left sustainable aftertaste of exciting happiness and desire to see his charismatic smile and to hear oboist Alexey Balashov again…" (Tomsk State Philharmonic society).
"Alexey Balashov - without exaggeration - may be called one of the most well-known and demanded oboists of the country, whose solo career actively develops, favourably appreciated by professionals and audience…" (National journal "Nasha Molodezh" (Moscow)).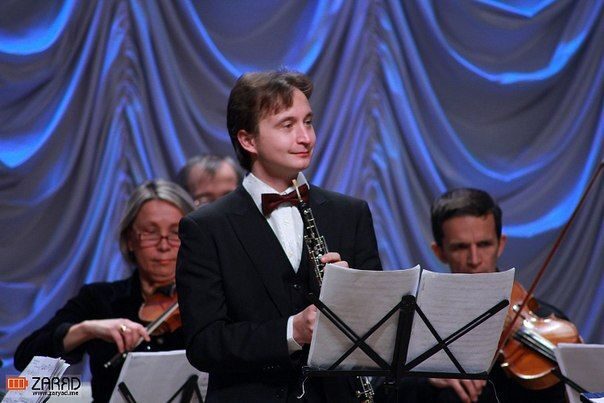 Alexey Balashov graduated from the Moscow P. I. Tchaikovsky Conservatory in 2008 (the oboe class of Professor Alexey Utkin).
Alexey Balashov participated in master-classes of the following outstanding contemporary oboists: François Leleux (France), Christian Schmidt (Germany), Alexey Ogrinchuk (Russia-the Netherlands), Bart Schneemann (the Netherlands), Mark Fink (the USA), Marcel Ponseele (France), etc.
From 2010 till 2013 Balashov treated as an artist of the Academic Symphony Orchestra of the Moscow Philharmonic Society under Professor Yury Simonov. Alexey Balashov used to be an art director of the Tsarskaya Tower Orchestra in 2013. He worked as a soloist of the Primorsky Theatre of Opera and Ballet in 2015 (nowadays it is the Primorsky Stage of the Mariinsky theatre, Vladivostok).
At the moment Alexey performs as a director of the ensemble of soloists called "Art Style".
Since 2012 Balashov takes part in the developing of a special kind of concert practice – music and drama performances, combining playing musical instruments, literary recitation and drama. These synthetic projects are as following: "Musical Kaleidoscope", "Musicians are Joking… and not only this…", "The Faces of Shakespeare", "Ave Maria", "By Name of Madonna. Monologues about Love". They were very successful and took place at the most prestigious concert halls of Russia: the Smaller Hall of Moscow Conservatory, the Chamber Hall of the Moscow International Performing Arts Center, St. Peter and Paul Cathedral in Moscow and at many Philharmonic Societies in Belgorod, Yekaterinburg, Kurgan, Omsk, etc.
Alexey Balashov is a participant and prize winner of many international festivals and competitions in Russia, Germany, Italy and Switzerland, for example:
- 2002 – Usedom Music Festival (Germany);
- 2007 – International Contest of oboists "Kazan Kremlin" (Kazan, I prize);
- 2011 – International Contest "Romanticism: the origins and horizons" in memory of Alemdar Karamanov (Moscow, chamber ensemble - I prize);
- 2011 - International Festival of Chamber Music "Days of Austrian culture in Moscow" (I prize);
- 2011-2014 – International Contest "The Muses of the World" (Moscow, I prize);
- 2011-2013, 2015 - International Contest of Contemporary Music "Moscow autumn" (Moscow);
- 2013 – The First International Oboe Competition "Muri competition" (Switzerland);
- 2013 – Feldbach Music Festival (Germany);
- 2014 – International Festival of Chamber Music "Spring in Russia" (Moscow);
- 2015 – The VII Siberian International Festival of Organ Music (Omsk).
The oboist has prestigious awards of authorities and letters of thanks given by various institutions and organisations.
Alexey treated as a soloist with various orchestras in Moscow, Kaluga, Kirov, Yoshkar-Ola, Kazan, Ulyanovsk, Tolyatti, Samara, Saransk, Astrakhan, Stavropol, Krasnodar, Surgut, Tomsk, Abakan and other Russian cities.
In the repertoire of the musician there are almost 300 music pieces, written for oboe – from Baroque music to the modern composers (J. S. Bach, G. F. Handel, G. P. Telemann, T. Albinoni, A. Marcello, A. Vivaldi, W. A. Mozart, J. Haydn, R. Schumann, A. Pasculli, P. Hindemith, F. Poulenc, B. Britten, A. Tchaikovsky and many others). The oboist combines his concerts with enhanced studying of oboe history (Alexey Balashov presents the history of oboe and its development at some of his concerts). In the years of 2011-2012 Balashov carried out a project called "Oboe in the History of Music".
The musician cooperates with contemporary composers both in Russia and abroad. Composers write music specially for Alexey Balashov, many of these compositions were dedicated to him.
The musician has hold plenty of author master-classes for oboe students and pedagogues all over Russia: in Moscow, Tambov, Ufa, Naberezhnye Chelny, Abakan, Perm, Kurgan, Surgut, etc.
Since 2015 Alexey Balashov cooperates with Ksenia Fedorova. She is an artist, compere in concerts of classical music and a member of Russian Association of art critics. Together they make bright concerts, finely combining music, drama, graphic arts and sand art.
Balashov toured a lot in Russia, the Ukraine, Moldova, Romania, Germany, Switzerland, Spain, Italy, Kazakhstan, China, South Korea, Japan, Finland and Sweden.
Alexey Balashov released two discs with music for oboe. Together with Lyudmila Dukhan he released a CD with virtuoso music for oboe and piano by the Italian composer of the XIX century Antonio Pasculli in 2012. The CD was recorded at the Moscow "Artservice" Music Publishing. In 2015 Alexey released another CD with Russian music "Enchantment of oboe. The present from Russia".
One could enjoy his solo playing at such famous radio stations as "Orphey" and "Euroradio".
Alexey Balashov plays the German oboe of the brand "Ludwig Frank" (Berlin).